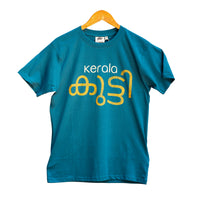 Viakerala
Kerala Kutty T-Shirt
Kutty is a common suffix, used mostly as a term of endearment (a child is called Kutty) but it often ends up becoming  a term in one's official name; be it male, female, Hindu/Christian/Muslim... someone with kutty as a part of their  name is definitely from Kerala!
We even have people called - Baby Kutty which translates as Baby Baby!
Silk Screen Printed on 100% cotton T-Shirts.